whind's Guide to Vitamin C for Glowing Skin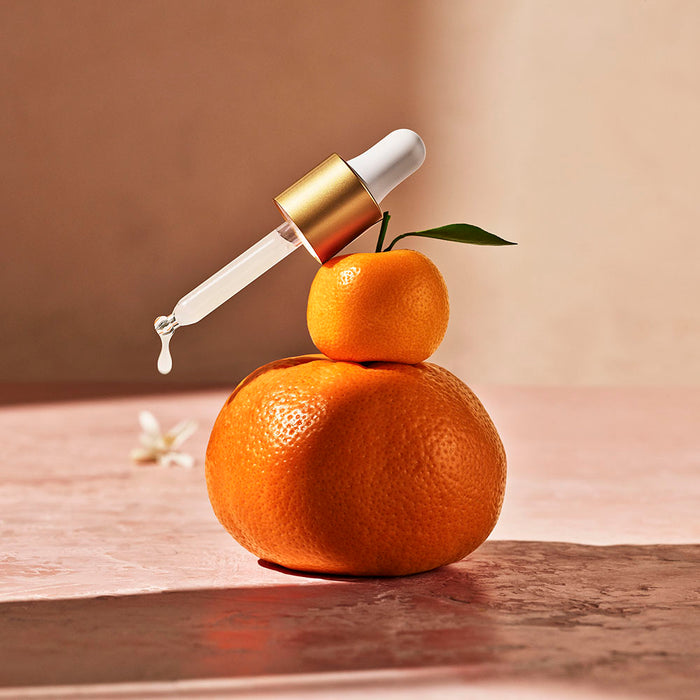 We all know how amazing Vitamin C is for our bodies, nurturing us through what we eat and drink. But did you also know that it's a key ingredient in our skincare products? Vitamin C is a powerful but gentle skincare ingredient, working to brighten the complexion and leaving us with gorgeous, glowing skin. From a gentle jelly cleanser to a potent vitamin C serum, we've infused Vitamin C into many of our nourishing skincare products, thanks to its glow-giving, radiant complexion benefits.
The benefits of Vitamin C for your skin
Vitamin C is gentle enough to use on all skin types, bringing a multitude of skin-enhancing effects. When used in skincare, Vitamin C:

Brightens – by reducing the appearance of dark spots and pigmentation and smoothing the surface of the skin, Vitamin C leaves skin looking dewy and bright

Evens skin tone – as well as reducing pigment spots, Vitamin C also evens skin tone by reducing redness

Protects – Vitamin C is a powerful antioxidant, which protects the skin from environmental stressors such as UV exposure and pollution

Firms – Vitamin C plays a role in the skin's natural production of collagen, reducing the appearance of fine lines and wrinkles, resulting in plump and firm skin
How to use Vitamin C in your skincare ritual
Vitamin C comes in many different forms, so it can be formulated with many types of skincare products. So, you can use it in just one product or reap its benefits throughout your skincare ritual.

A potent Vitamin C serum, Oasis Bright uses a multi-active approach to target visible signs of dullness for radiant skin. Here, Vitamin C is brought together with Arbutin, to fade the look of dark spots and pigmentation, and Prickly Pear Extract to smooth and soothe skin. Together with effective hydrating ingredients, Oasis Bright drenches the skin in hydration whilst adding a radiant glow. Use after cleansing and toning, and before your favorite moisturizer.

whind's Oasis Fresh dissolving jelly cleanser is infused with Vitamin C and gentle ingredients that balance the complexion, removing impurities without stripping. Here the formula, with Vitamin C and Niacinamide, deeply cleanses and brightens skin, leaving a soft, radiant complexion. Use Oasis Fresh as the first step in your skincare ritual.

Boost your skin's Vitamin C intake throughout the day with our Oasis Veil reviving glow mist. Here, Vitamin C is formulated in a serum-in-mist, diffusing a lightweight blend of radiance-enhancing ingredients, including antioxidants and Panthenol. Perfect under or over makeup, Oasis Veil gives instant freshness and hydration whenever you need it, reviving your skin's luminosity.