As a global citizen who moves through the world both at work and in life, how do you manage to stay grounded?
As someone who travels a lot, I've always found it super important to be zen in myself – to take enough time for myself to do little meditation exercises, read books, take baths and so on. When you're zen with yourself and grounded, you can travel as much as you like and nothing will take away the ground from beneath your feet. It's also very important to keep the connection with your friends and family – be close to the ones who are the closest.
What was it like to shoot [the whind shoot] in Marrakech?
I love Marrakech. I've been to Essaouira once before and absolutely fell in love with the culture and the kindness of the people - and, of course, the weather! We shot at the Beldi Country Club in Marrakech, which was just incredible - it was like a dream.
What did you think of the whind products that you tried?
During the shoot I got to try on a lot of products and I absolutely loved all of them, especially the [whind's note: redacted... for now]. They were a super-nice texture and the scent was amazing.
To be "full of light" is the highest compliment that you can give in Morocco. Who or what fills you with light?
Everything that makes me passionate, gives me joy and allows me to communicate. During lockdown I played a lot of piano, which gives me so much. Some things can drain your energy, whereas when you can be creative and passionate, it really gives you energy back. Another thing is music – these days especially it's so important. I try to wake up and listen to good-mood songs that lift me up. It's kind of a coping mechanism to survive the lockdown.
What one thing do you do every day just for fun, or to bring you joy?
I try to do yoga and meditation every day – it gives me a lot of mindfulness and it's nice to have this little time frame where you can just concentrate on yourself and take care of your body and your mind.
"During the shoot, I got to try on a lot of [whind] products and I absolutely loved all of them, especially [whind's note: redacted]"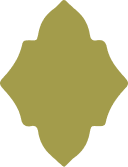 ALYSSA, COURTESY OF WHIND
As a model, what's the best Beauty advice you've ever been given?
I think it's drinking at least 2-3 litres of water per day and wearing sunscreen every day, even if it's not too sunny. It's important to protect your skin.
When you travel, which skincare products always make it into your carry-on?
I always take a face oil with me everywhere I go now that I'm doing my daily face yoga. I also always have a peeling mask with me, as I love the effect on my skin, and lip balm is an essential.
Which travel destination have you been daydreaming of - and who would you take with you?
I would take my boyfriend and my best friend Gia to Mexico City, then go on a road trip and discover the country more. It's been on our list for a long time.
How has your home country shaped who you are?
I grew up in a little town in Germany but my mother is from Indonesia, so I looked a little bit different from the other kids at school. Indonesia definitely shaped my cultural identity. As a mixed kid I have both influences – the German side, but also this exotic Indonesian. I try to visit Indonesia as much as I can – I go every two years to see my family and friends over there.
You're a DJ and a musician - how has where you're from influenced your music? What sounds remind you of your home?
As I've lived in Berlin for eight years now, I would say techno is one of my main influences, because Berlin is so well known for its tech music and culture. Panorama Bar at Berghain is the best place for checking out house and techno music. I generally make electronic music and this is where I get my inspiration from.
What specific sensation or memory always evokes home for you, wherever in the world you may be?
That would definitely be food, because my mother always cooked Indonesian food when I was younger such as gado gado, satay or nasi goreng. Wherever I am I crave this food and the memories I have growing up with my mother when she cooked it.
What's the most magical spot in your home city – the place you go to escape, detach and dream?
This would be Bernsteinsee, a gorgeous lake an hour's drive away from my flat. Berlin can get kind of crowded, loud and hectic, so I love to rest here and go for a little swim and have a picnic with my friends. In the evening it's just like an oasis.
What about your most treasured hangout for meeting friends?
My friends and I love to hang out at our own flats and have nice cooking sessions, which usually turn into long evenings of drinking wine and talking! Restaurant-wise, though, I would definitely recommend Grill Royal – it's the best place for a nice fancy dinner in Berlin.
And your go-to for a romantic date-night dinner or drinks?
Der Goldene Hahn, which is a little Italian place in Kreuzberg. Afterwards you could go for drinks in Legosi Bar or another amazing bar called Eigengrau Bar. It's owned by friends of mine and they make the best drinks ever.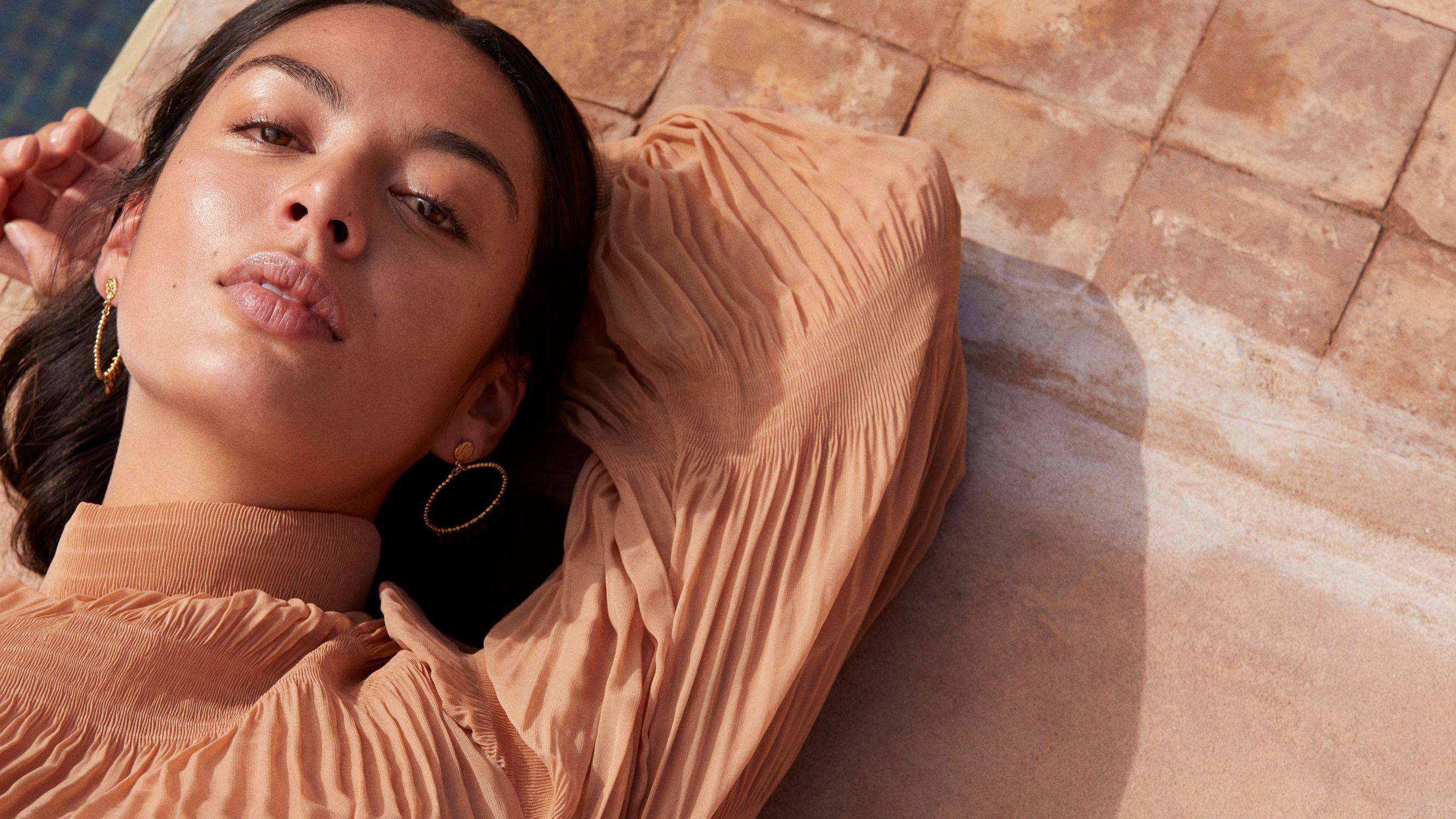 ALYSSA, COURTESY OF WHIND
"Berlin can get kind of crowded, loud and hectic, so I love to rest here... in the evening, it's just like an oasis."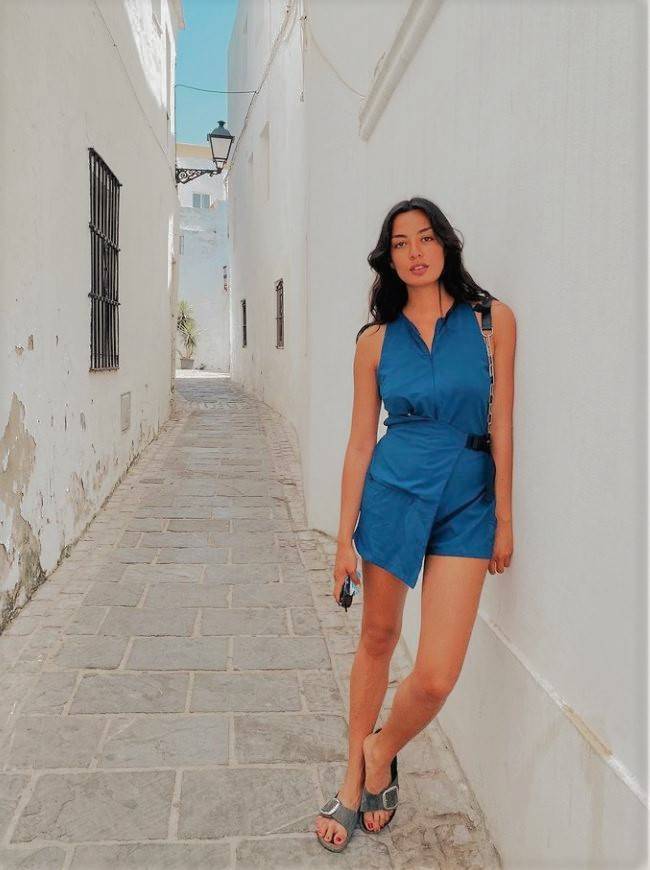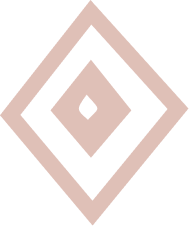 ALYSSA, INSTAGRAM @ALYSSA_COR
"I have a fantastic network... who I can call my real friends - we support each other like crazy. Friendship, for me, particularly between women, is just the most important thing."
Are there any local craftspeople or creators that you want to spotlight?
My good friend Lani Lees is an amazing jewellery designer – she does everything handcrafted with real silver and gold jewellery. She has a little atelier in Berlin and is making this great unisex jewellery with a lot of messages in it.
During lockdown, who did you miss the most, and how did you stay
I've missed my grandparents the most because I didn't really have the chance to see them during lockdown. But with my friends we do this FaceTime session once a week where we just hang out and talk. It's super important during these times to talk about everything with your friends and family, and it's amazing that you can do this via phone.
Which women - real, famous or imagined - inspire you and lift you up?
I have an amazing group of friends in Berlin – of women who are working as creatives, stylists, photographers, lawyers, street casters and so on. I have a fantastic network of women who I can call my real friends – we support each other like crazy and are there for each other in any kind of matter. Friendship for me, particularly between women, is just the most important thing. But the woman who inspires me the most is definitely my best friend Gia – she's an angel. We grew up together and have known each other our whole lives, and we've done everything together – playing piano, ballet, making music, DJing, modelling – so we're like a soul unit. And my mother, for sure!
What are your dreams for the year ahead?
It would be great to play music in front of people again – I really miss that connection. I think in the open air is where Covid-19 regulations will be able to be observed safely, so I'd love to play a festival or another open-air venue. Just to see people dance again would make me very happy.
Follow Alyssa's journey on instagram @alyssa_cor, and check out her debut single Remember Me at @alyyganyy. While you're there, don't forget to follow us @whind to stay up to date with the latest about Beauty, skincare and our community of creators.