whind's Christmas Gift Guide 2021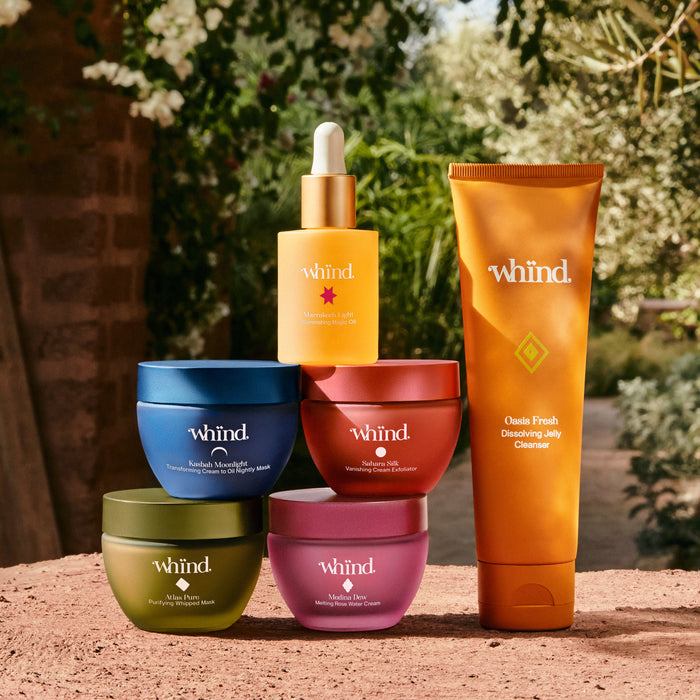 Say maasalama to giving candles and bubble bath sets this Christmas: we've got a truly indulgent way to show your affection that won't end up at the back of the bathroom cabinet.
Say maasalama to giving candles and bubble bath sets this Christmas: we've got a truly indulgent way to show your affection that won't end up at the back of the bathroom cabinet.
Skincare isn't only a science to us, it's our love language. Deeply immersive. Highly personal. And made to be shared. So if you're looking for a more heartfelt way to tell someone you care, our evocatively potent skincare is it.
Each whind product is designed with love to deliver extraordinary results for all skin types. We believe that by combining science-led formulas with exceptional Moroccan-inspired sensoriality, everyone can transform their beauty routine into a joyful ritual. 
That's why this Christmas, we've put together the whind gift collection – so whether you're shopping for a glow addict, a sustainability lover or a busy bee, our beauty and selfcare products are the perfect way to wind down (and whind up!) the end of the year. 
Introducing our 2021 Christmas Gift Guide, so you can find the ritual that's right for them.
For the One Who Wants a Year-Round Glow
Travel might have been a bit trickier this year, and that sun-kissed glow even more elusive than usual. If you know someone who's craving sunnier climes, give them a bit of sunshine in a bottle with our Bronzing Glow Duo set.
Ourika Sun Natural Tan Drops are a healthier way to get a natural tan without risking harmful UV rays or needing to hop on a flight. And Marrakech Light Illuminating Magic Oil is our award-winning, antioxidant-rich blend of nine oils, created to hydrate and protect the skin. 
Combined, the duo will bless them with hydrated, glowing skin that lasts through the winter months. No passport required.
For the One Who Wants Hydration
We're probably all guilty of neglecting our beauty rituals when life gets in the way. Add the harsh winter months, and come Christmas we're craving a hit of hydration. 
Enter our Weightless Hydration Duo: a clever combination of day and night creams that delivers plump, radiant skin to those in need of a bit of beauty TLC.
Heavenly scented and using natural ingredients like rosewater, Medina Dew is a weightless, melting facial moisturiser that boosts hydration and keeps moisture locked in for up to 72 hours. And for a truly indulgent finish, Kasbah Moonlight lightweight overnight recovery mask will see them waking up with a beautifully moonlit glow.
For the One Who Wants a Detox
Endless catch-ups. Elaborate dinners. The office Christmas party. As the festive season ramps up, it can leave you feeling worn down and burnt out. So whether it's for a fellow party fiend or just for yourself, our Cleanse & Detox Duo offers a welcome reset to keep your light burning bright.
This gentle cleansing ritual doesn't strip or dry out the skin, and uses natural ingredients to help purify and detox. Our award-winning Oasis Fresh Jelly Cleanser uses an effective, pH-balanced formula for fresh-looking, glowing skin. Follow with Atlas Pure Whipped Clay Mask and its blend of Clays and Salicylic Acid to leave skin soft, clear, and ready for one more twirl around the dance floor.
For the One Who Wants Nourishment
A true glow comes from within. So for those who want to let their natural beauty shine through, our Sunlit Glow Duo unlocks luminous skin that needs minimal (or no) makeup to radiate health and happiness. 
The set includes our Sahara Silk Brightening Cream Exfoliator to gently buff away dull, dead skin cells and Marrakech Light Illuminating Magic Oil to nourish and hydrate the skin. Sahara Silk offers a triple action exfoliation, with a blend of Pomegranate enzymes, Rhassoul Clay and rice bran working together to create a satin-soft complexion. 
When followed with Marrakech Light, which locks in moisture and protects the skin from damage caused by free radicals, the duo results in a desert-lit complexion that feels magical all year round.
For the One Who Wants a Quick Revival 
We all know someone who's constantly on the go – but even our busiest friends and family need to make space for self-care. That's where Oasis Veil, our weightless spray-on serum that can be used both under and over makeup, comes in.
Those who might not have time for a full skincare regime every day will love its instant boost of radiance and hydration. Rare Prickly Pear Extract protects and soothes, Orange Blossom Water refreshes and hydrates, and Pro Vitamin B5 strengthens the skin's moisture barrier. We call it glow on the go.
For the One Who Wants to Be Kind to the Planet
Looking to get something thoughtful for someone who's committed to a kinder lifestyle? You're in luck. We believe that you – or whoever you treat this Christmas – deserve to have beautiful skin while staying ethical and environmentally friendly. 
All of whind's skincare is vegan and cruelty-free, and we're PETA-certified. We only use biodegradable ingredients, meaning none of our products include any ocean-clogging plastic microbeads or mercury. 
We've also committed to reducing our impact on the environment by making our formulas, packaging and processes as planet-friendly as possible. You can read more about how whind is leaving a lighter footprint – because trees are for life, not just for Christmas.